Elvenar
Update to Version 0.29 available. Play Elvenar NOW
Elvenar is a browser based, strategy/city building, resource based game. Elvenar it's fantasy browser MMO.
Elvenar is a fantasy city-building game that allows you to choose either elves or humans as a starting race. Create beautiful buildings in your city and upgrade them to produce faster the resources you need. Explore the world map, interact with your neighbors and gather relics to boost your production.
Building Games
Fantasy City Builder Elvenar.
Free online strategy games
Elvenar REVIEW
Welcome to Elvenar!
Elvenar is a free-to-play browser-based game, where you will build a flourishing city and discover a magical world full of mysteries.
Build up the most beautiful city and establish the most efficient economic system that you can! In Elvenar you can upgrade almost every building, improving the productivity and the look of your city.
Explore the vast World Map to acquire the knowledge of your wise ancestors and discover new technologies. Trade or fight over powerful Relics to boost your production.
You can either become a skilled and well-known trader, refine your producing art or lead your troops to victory in 3D-animated battles, the decision is up to you.
In Elvenar you will find yourself in a mythical fantasy world. This beautiful fantasy city builder lets you choose to play as either elves or humans. Your task as the ruler of the town is to help your people prosper. While the mystic elves command powerful magic, which shows in both their creatures and their buildings, humans exhibit a strong connection to medieval weaponry.
In the fantasy online game Elvenar, almost every building can be upgraded and visually changed multiple times to increase productivity, becoming ever more beautiful in the process. The main hall, factories, workers huts, residentials and many more buildings are waiting to be upgraded by your eager hands. Transform your small village into an aspiring kingdom!
Embark on exciting quests on the world map, explore the areas around your city and pick up rare relics to boost your production. And don't forget to research advanced technologies! More than 200 different improvements can be discovered and unlocked in the online city builder world of Elvenar.
Fantasy City Builder Game.
Welcome traveler to the online fantasy game Elvenar!
After many millennia, the ancient and untouched world of Elvenar seems ready to be explored once again, having recovered from its previous inhabitants. A new era dawns for your people. Choose either Elves or Humans and create a lush city in the city builder game Elvenar. Both races rely on the vision and leadership of you as their new ruler.
Take care of the construction of your village and guide Elves or Humans through the dazzling realms of this new fantasy game filled with many secrets, mysterious monsters, and rich resources. Set out to uncover long forgotten technologies and build a prosperous city. Will you become a force to be reckoned with in this city building game?
Raise your own army of fantastic creatures
Your friendly neighborhood
You are not alone in Elvenar, the fantasy city builder game. On the vast and seemingly unending world map, numerous other tribes of elves and humans have made their home. You can visit them and take a good look at their city building progress.
The sages tell stories of future trading possibilities and other ways to interact with your neighbors to further the growth and prosperity of your city.
Explore an opulent fantasy game world, gather relics and prepare yourself for unfriendly encounters!
As soon as you feel up to it, the vast and mythical world of Elvenar encourages you to explore the world map. There is a myriad of areas surrounding your city, just waiting for your scouts to explore. Each of these regions in the free online game holds relics to unleash your production potential.
These powerful relics will boost the production of different types of goods in your city. In Elvenar, you can get your hands on these relics by either trading some with the province owners or fighting for them against savage creatures!
Races
Elves
Elves as a race are deeply rooted in the natural world. They live and breathe magic, existing in close harmony with nature. This is reflected in their city buildings, which are both functional and aesthetic and sometimes even alive, like the stone-harvesting Golems or plank-producing Treants.
Humans
Humans are an ambitious and determined, fast-growing race in Elvenar. When these fantasy game world inhabitants have set their mind on something, they will get it done. No wonder they strongly focus on engineering and medieval architecture.
Animated 3D Battles
Huge world map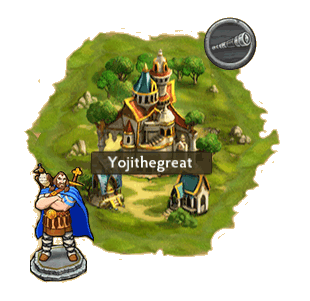 Elvenar's wasteland begins to flourish again, turning back into the thriving region it was many millennia ago. Ancient magic Relics that were forgotten for thousands of years rise to the surface and are waiting for you to find and collect them in the endless Provinces surrounding your city.
Explore the world of Elvenar, make your name and become well-known among your neighbors!
Discover the cities of other players, interact and socialize with them. Establishing good relationships will assure you of their support and grant fee-free trading conditions.
Acquire the Relics and gain access to the magical knowledge of the remote ancestors of Elvenar. Every type of Relic can boost the production of a certain good – which ones will you specialize in?
Each Province features eight Encounters, where you will meet different people and characters who will try to trade their Relics with you.
But negotiating is not the only option to get your hands on these precious rewards. If you are up for it, you can fight for them and lead your troops into epic, 3D-animated battles against powerful
Fantasy Setting
Build and shape your own city.
The heart of the city builder: residences, workshops & more
In Elvenar you are able to choose your favorite race of either elven or human ancestry. Pick up the reins and lead your people into a new era by laying the foundation and building your city just the way you like it!
You can upgrade almost every building in this free fantasy game to make it look more beautiful, more efficient, and more productive.
Residences offer more housing space for your citizens and can be upgraded to your city's benefit. Workshops or Manufactories find ever better methods to provide you with more building materials. This is very important as you progress in Elvenar, the online city builder game.
Relic system to boost productions
Research hundreds of technologies
Choose your favorite race